A LANDMARK BUILT TO ADD MORE TIME TO YOUR LIFE!

L&T Realty presents a magnificent landmark in the heart of Mumbai. This extraordinary gated community with stylish and functional residences boasts of being parked within easy reach of the city's most iconic locales, providing easy access to every corner of the city. With contemporarily designed homes, this masterstroke of architectural brilliance welcomes you with unmatched comforts and conveniences. Filled with world-class amenities, it is perfect for people who want to spend more time with themselves and their loved ones! Come, let us indulge you and your family and add some more time to your life!
1 Bed Homes from 85 Lakhs (all inclusive.)
2 Bed Homes from 1.56 Cr (all inclusive)
GALLERY
Plan Details
LOCATION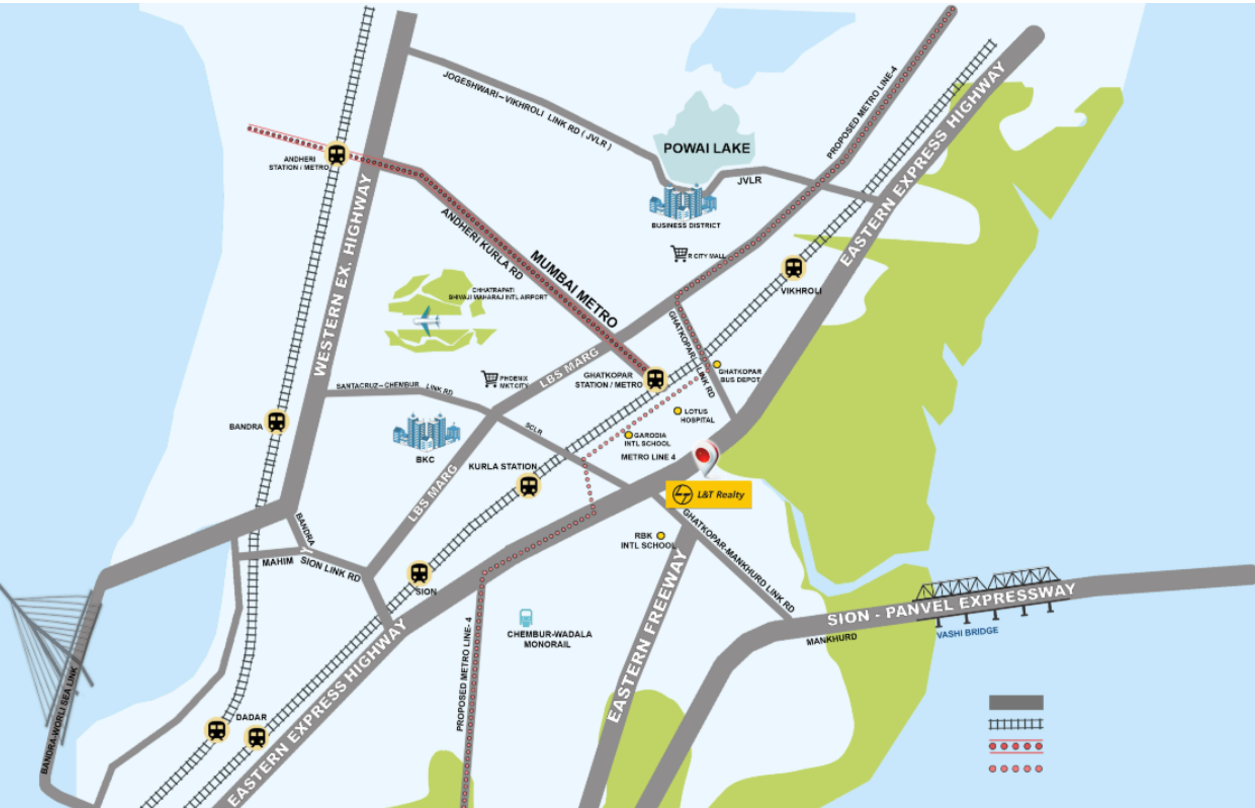 L&T Realty Centrona Sales Office, Eastern Express Hwy, Near Ghatkopar Jeejaabai Flyover , Kamraj Nagar, Ghatkopar East, Mumbai, 400077
Road:
Eastern Freeway – 1.5 km
The Santacruz-Chembur Link Road – 1.1 km
Rail:
Kurla – 4.8 km
Chembur – 1.9 km
Ghatkopar – 2.5 km
Chembur-Wadala Monorail – 2.2 km
Metro:
Ghatkopar – 2.5 km
Metro Line Four – 200 mts.
Airport:
Chhatrapati Shivaji International Airport – 8.2 km
Schools:
RBK International – 2 km
Garodia International – 1 km
Malls:
Phoenix Market City – 5.8 km
R City Mall, Ghatkopar – 4.7 km
Hospitals:
Aashirwad Heart Hospital – 1 km
Lotus ENT Hospital – 2.4 km
RERA
The project has been registered via MahaRERA registration numbers –
P51800003446
P5180003201
P51800006239
P51800006139
And is available on: https://maharera.mahaonline.gov.in/
Disclaimer:- L&T Realty Centrona is a project by L&T Asian Realty Project LLP (holding company : L&T Realty Ltd.) being jointly developed with Aryamaan Developers Private Limited and Xrbia Chakan Developers Pvt Ltd.
DISCLAIMER
This website does not constitute an offer and/or acceptance and/or contract and/or agreement and/or transaction and/or any intention thereof, of any nature whatsoever. All layout plans, the number/orientation of buildings/towers/floors/wings/structures, the common areas, facilities and amenities, the fixtures, fittings, soft furnishing/furniture, gadgets, technology, information, pictures, images and visuals, drawings, specifications, sketches and other details herein are merely a creative imagination and are only indicative. Stock images may be taken at a location other than the project site. Amenities shown in the brochure shall be shared by all residents of Centrona unless specifically mentioned in the proforma Agreement for Sale. The Developer reserves the right to change any or all of these in the interest of the development as permissible under law. These should not be construed in any manner as disclosures under the provisions of RERA, 2016 and the Rules thereunder by Government of Maharashtra and/or applicable law, and the relevant applicable disclosures shall be made at an appropriate time. All persons are requested to independently verify all details/documents pertaining to this project. The official website of the company is www.lntrealty.com. Please do not rely on the information provided in any other website.